There was no time. Saionara Santana had to rush to get her daughter treated at a medical center in Salvador, the capital of Bahia, in eastern Brazil. The child had chronic colic. When she arrived, her heart in her throat, the receptionist barely looked at her. The situation was urgent so Saionara said the words that she believed would win the receptionist's understanding.
"I have lupus and I need my daughter to be taken care of," said the 45-year-old mother.
"Yes? So what?" was the answer she received.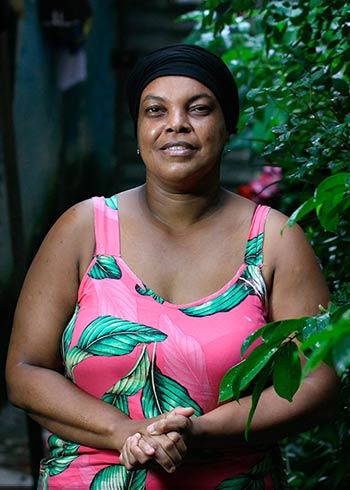 Saionara Santana.- Brazil
In that instant, which lingers as a vivid memory from three years ago, Saionara understood that for the health care system of her country she was just another data point in the Systemic Lupus Erythematosus (SLE) statistics, that pledges of priority because she is a woman, a lupus patient and Afro-Brazilian were nothing more than empty promises. She knew then that a cold and indifferent look would always await her.
What she did not imagine was that her situation was similar to that of other women in the region, especially in Colombia and Peru, where women of African descent face delays in their diagnosis due to slow examinations or a lack of specialists. This gap in the health care system paves the way for lupus to get worse and compromise vital organs, particularly kidneys, according to the article "Global Epidemiology of Systemic Lupus Erythematosus" published in Nature Reviews Rheumatology.
Statistics from the Brazilian Health System (SUS) underscore the gravity of the problem. Some 87% of patients who died between 2016 and 2020 from diseases linked to lupus were women. Of the deaths in those same years, 47% were Black women.
Research published in 2017 in the Brazilian Journal of Rheumatology estimates there are between 150,000 and 300,000 patients with the disease in Brazil.
In Colombia, the number of lupus cases reported by doctors has been steadily rising, from 23,777 in 2015 to 52,944 in 2021.
Mireya Cuesta.- Colombia
In Peru, 16,000 cases were reported in 2020, but researchers believe the number could be higher since many doctors still do not correctly diagnose symptoms as lupus.
Lupus is an autoimmune disease, which means that the immune system – the body system that usually fights infections – attacks healthy tissue instead. It can cause pain and inflammation in any part of the body and is capable of causing organ damage that can leave the patient incapacitated.
Because lupus is such a complex disease, patients are often misdiagnosed. Dr. Santiago Bernal, a rheumatologist and professor at the Universidad Javeriana in Colombia, explains that "one can find a whole spectrum (of symptoms), from patients whose brain is affected, to others whose heart, lungs, kidneys, pancreas, liver, intestine or skin" are impacted.
For Dr. Oswaldo Castañeda, a Peruvian rheumatologist with almost 40 years of experience treating patients with the disease, "it is still very difficult to diagnose [lupus], due to lack of knowledge and acuity."
Legislative measures have been passed in some Latin American countries to respond to the special medical needs of patients with lupus.
In Peru, Regulations of Law No. 29698 declares the treatment of people suffering from rare or orphan diseases to be of national concern and preferential attention. But in Colombia, the Rare Diseases Law 1.392 which guarantees access to treatment of many rare diseases excludes lupus.
Gumelín Ruíz.- Perú
Discrimination and lack of access to medical services have prevented women of color in countries such as Peru, Colombia and Brazil from getting the medical care they need.
In this special report, women in Brazil, in Peru and in Colombia tell their stories of discrimination, exclusion from the health care system and lack of care. In sharing their experiences, they give voice to the many women of color in Latin America who face inadequate and inequitable treatment for debilitating conditions caused by lupus.
This is the story of Saionara, who has been suffering from lupus since 2018. It's the story of Jenny Saavedra, a mestizo and Afro-American woman from northern Peru who suffered a psychotic crisis. On the Colombian coast, it's the story of Mireya, who suffers from episodes of schizophrenia and has kidney and lung damage as a result of the disease.